Kaleidoscope Images from your Photos
Project designed by Michele Gerbrandt.
http://search.barnesandnoble.com/Memory-Makers-Photo-Kaleidoscopes/Satellite-Press/e/9781892127044/?itm=59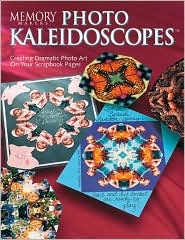 Materials:
four original 4" x 6" duplicate photos and 4 reverse 4" x 6" prints

cutting mat

blue 12" x 12" paper or page for mounting project

photo-safe wax pencil

45-degree clear triangle

ballpoint pen

craft knife

photo-safe adhesive

metal ruler

removable tape

folding mirror
Steps:

"0" and the four reverse photos with an "R."

Place the 45-degree triangle on one original picture and move it around until the part of the picture you choose to use is visible beneath the triangle.

Find three distinct reference points on the photo, which fall along the edges of your triangle. You will cut through these exact points on each original photo. Use a photo-safe wax pencil or pen to

mark lines along the sides of the triangle. Place a metal ruler on the drawn lines and cut with a craft knife. Repeat for each photo.

Place one original, cut photo on top of one reverse, un-cut photo and align it to create an exact mirror image.

Temporarily tape together the two pieces with removable tape. This creates one pair. Repeat this step three times to create the remaining three pairs.

Overlay two pairs together to create a half kaleidoscope and temporarily tape with removable tape. Using your photo-safe wax pencil or pen, draw a line where the original photo 'borders the reverse photo. Place a ruler on the drawn lines and cut with a craft knife. Repeat this step with the remaining half of the photos.

Re-piece the kaleidoscope image onto your page for mounting and adhere with a photo-safe adhesive.

Tips:
First practice making a kaleidoscope with black and white or color copies of your picture.

A folding mirror can also be used to determine which part of the picture is best to use.